Kyocera and Canon copiers are machines created by two great brands. Canon is the traditional staple, but Kyocera has made improvements each year to create products that can be great in quality, as well. So, with two strong options, how do you pick?
KYOCERA Multi-Functional Digital Copier Taskalfa
Kyocera TaskAlfa 1800, 2200 is the best monochrome, printer, Color Scanner, and Photocopier MFP. The printer is one of the best investments. But finding a good printer is quite difficult. Browse a variety of printers online at Informal, and find a person who protects your print needs.
Kyocera TaskAlfa 1800, 2200 Mono Digital Photocopier Machine is very easy for everyone to use. It reduces the business workload, is durable, has an intuitive control panel, is exceptionally reliable, and is highly efficient. It is a compact device that delivers professional-quality prints, scans, and photocopies faster than any other machine of the day. Its main Advantage is the A3 size Printer cum copier and also scanner.
Cheap in rate compared to Canon, HP, Xerox, etc.
Very fast warm-up time of 15 sec.
Very fast 1st copy of time just less than 6 sec.
256 MB ram for fast processing & collection function.
Original Toner cost 5 paisa A4 print, Drum life is 1 lakh print, no developer required.
Prints up to 18 pages A4 and 9 pages A3 a minute
Uses 600 dpi laser technology with 256-grayscale copying for crisp text and realistic photos
Standard paper capacity of 400 sheets (expandable to 1,300 sheets)
Long-life components for exceptional efficiency and reliability.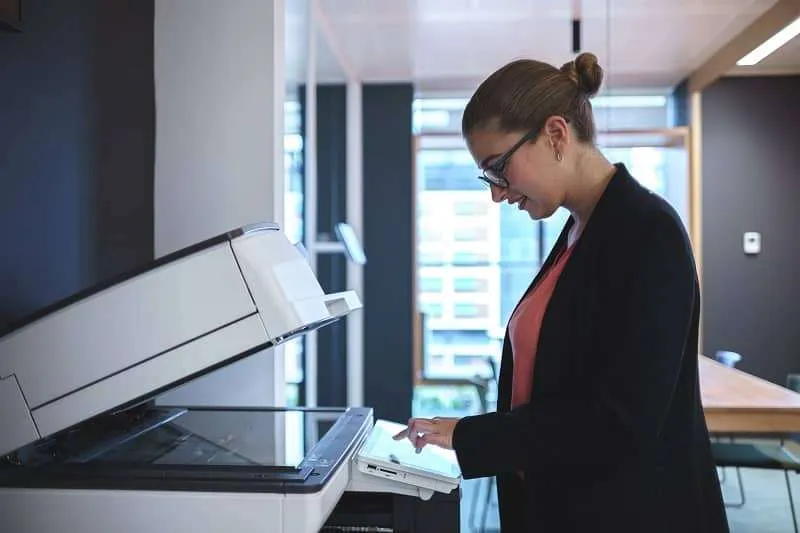 CANON IR2530
The Canon Imagerunner 2530 can be used as a photocopier, printer, scanner and fax. The machine is highly efficient with good speed and resolution when copying printing or scanning. It occupies a relatively small space when compared to other machines in its class.
How can you use the Canon Imagerunner 2530?
Its primary purpose is photocopying therefore it can be used to produce bulk copies
It can be used as a printer for outputting hard copies of documents you have on your computer
It can be used as a scanner for obtaining soft copies of documents that you have
It can be used as a fax machine for sending and receiving fax messages
The device is more robust than many in its class but handles much less paper when you compare it to most. Its paper handling capacity is 50. However, it has a much bigger paper cassette that can carry up to 1100 papers and an auto document feeder carrying carries 1000 papers.  Most copiers can carry less than 100 sheets.
Which Should you Choose?
If you're in the market for a new office printer, you have a lot of choices. A multifunction printer, or MFP, combines the functions of a printer, copier, scanner, and fax machine into one. You can help significantly improve workflow and reduce costs by purchasing one that matches your needs.
Many of our customers ask, "What's the best copier (or printer)?"
The answer is "it depends."
There's often no single "best" copier – copiers from the major manufacturers are all excellent with various pros and cons to each. The answer to the "best copier" is really quite simple – it's the one that cost-effectively accomplishes the business tasks that you need it to do.
The best copier for a marketing department might not be the best copier for a doctor's office or school district.
If you plan to get copiers for your office in Denver, you can buy or lease copiers in Denver. We can give you the option to get the copier that you want.  You can contact our local copier leasing services department in your location.
If your Location is around Denver, you may call us at ((303) 416-7100, and our personnel for copier leasing in Denver will assist you.   If you are also looking for copier repair services in Denver, you may contact our copier repair personnel at the same number.